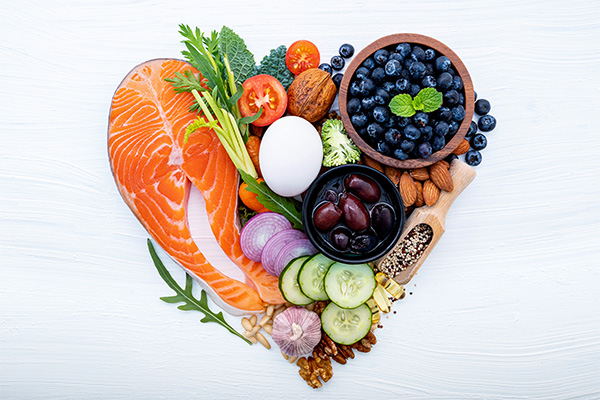 Omega-3'S & Heart Health
OMEGA-3'S & HEART HEALTH

By Adeeba Peerzade, BS, RDE
Omega-3 fatty acids are essential polyunsaturated fatty acids, which means they must be consumed through the diet because our body cannot make them on its own.
RECOMMENDATIONS:
The American Heart Association (AHA) recommends eating 2 servings of fish (particularly fatty fish) per week.

A serving is 3 ounces cooked or about ¾ cup of flaked fish. Fatty fish like anchovies, herring, mackerel, black cod, salmon, sardines, bluefin tuna, whitefish, striped bass, and cobia are high in omega-3 fatty acids.

The AHA also recommends eating plant-derived omega-3 fatty acids such as tofu, soybeans, walnuts, avocados, flaxseeds, chia seeds, and green leafy vegetables
BENEFITS
Research has shown that consumption of omega-3 fatty acids can reduce your risk of heart disease and stroke.
Decrease triglyceride levels

Lower blood pressure

Slightly reduce blood clotting

Decrease your risk of heart failure

Reduce irregular heartbeats omega 3-s

Improve brain health and cognition; may prevent Alzheimer's disease.

Improve eye health and fight inflammation
MEAL IDEAS
Incorporate these into your weekly meals for a simple way to boost heart health and increase omega 3-s in your diet!
Chia seed pudding

Salmon and avocado salad

Kale and white bean soup

A handful of walnuts & dried fruit

Tuna salad with low-fat mayo

Flaxseed granola parfait