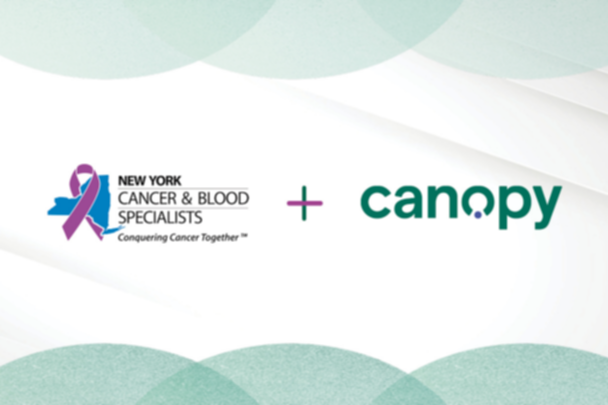 New York Cancer & Blood Specialists Partners with Canopy
New York Cancer & Blood Specialists (NYCBS), one of the nation's leading oncology practices, today announced a partnership with Canopy, the first Intelligent Care Platform for oncology, to further enhance patient outcomes through continuous care management. NYCBS officially launched the Canopy Platform after a rapid implementation.
A recognized leader in value-based care, NYCBS has enrolled more than 10,000 patients in high-quality, affordable care programs like Principal and Chronic Care Management (PCM/CCM). These programs are acknowledged by the Centers for Medicare & Medicaid Services for their ability to enhance patient care and outcomes while lowering overall healthcare costs. To further maximize the impact of these programs and other continuous care initiatives, NYCBS will deploy the complete Canopy Platform.
A comprehensive platform for all the care that happens between visits, Canopy enables practices to identify and prioritize patients who need help, remotely resolve issues with decision-support software, and generate new reimbursement streams from high-quality care. NYCBS will first deploy the Canopy Program Management module to intelligently streamline enrollment and workflow processes for PCM and CCM, along with Canopy's triage support tools, enabling triage teams to deliver more efficient and standardized care at scale. NYCBS also plans to implement the Canopy ePRO (electronic patient-reported outcomes) to further enhance continuous care and patient outcomes through remote symptom monitoring.
"Patients undergo a multitude of experiences beyond the walls of the clinic, and it is crucial to offer continuous care to optimize their outcomes," said Dr. Jeff Vacirca, CEO of New York Cancer & Blood Specialists. "Through Canopy, we are revolutionizing our operations to ensure seamless delivery of care and equipping patients with digitally inclusive tools. This empowers them to effectively communicate their symptoms and concerns anytime and anywhere, further enhancing their healthcare experience."
Canopy's ePRO-based remote monitoring system empowers patients to seamlessly report symptoms and other issues between office visits, enabling care teams to proactively intervene as needed. Studies of the Canopy ePRO show high patient engagement—88% at six months (JCO, 2022), correlating with significant outcomes for patients, including a 22% reduction in ER visits/hospitalizations and up to a 45% increase in treatment persistence (ASCO, 2022).
Canopy recently announced three additional new partnerships, including Hawaii Cancer Care, rapidly growing its network of leading oncology practices.
Through this partnership, NYCBS and Canopy aim to demonstrate the profound impact that partnerships between health technology and community oncology can have on patient outcomes. Visit www.canopycare.us to learn more.