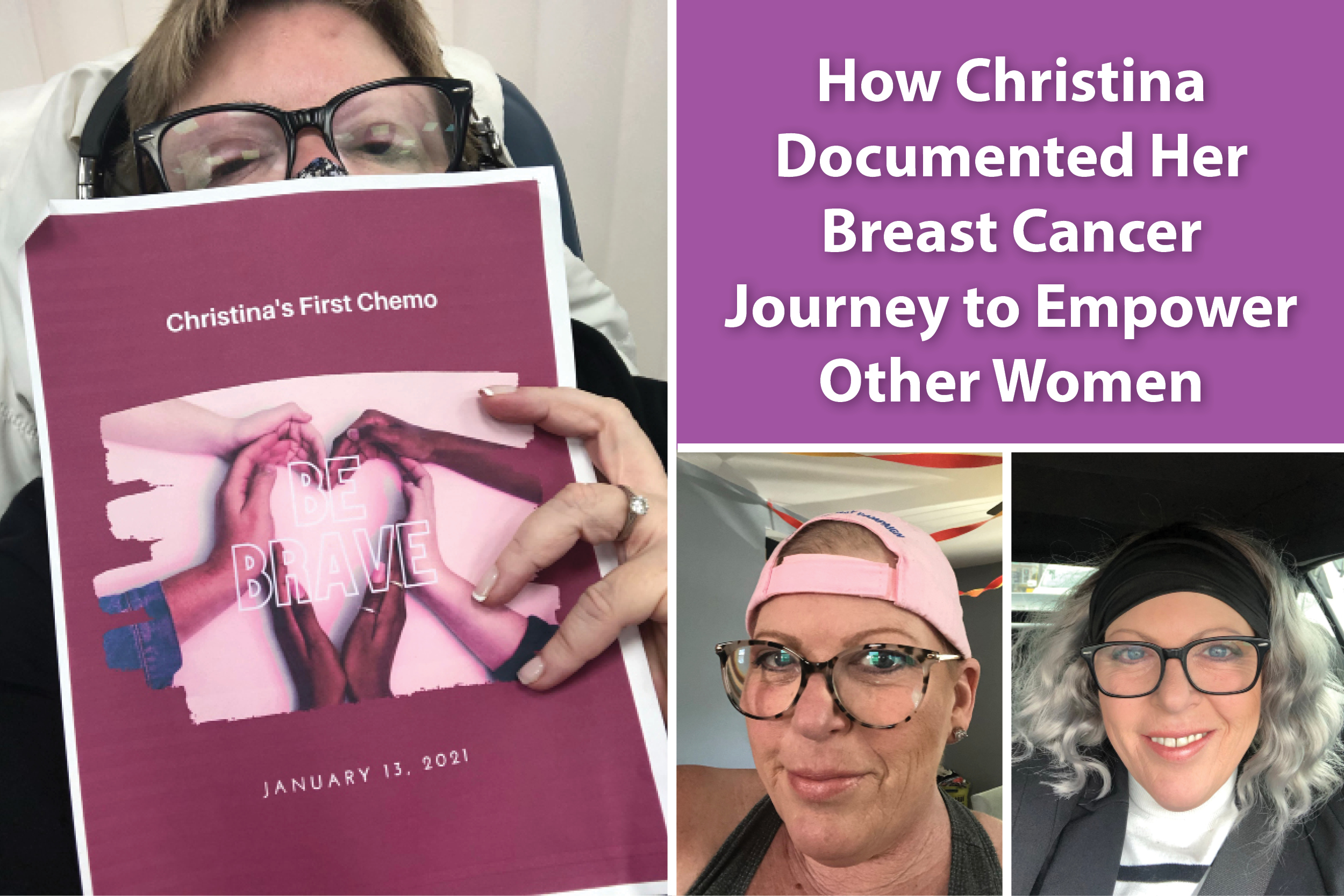 How Christina Documented Her Breast Cancer Journey to Empower Other Women
During the COVID-19 pandemic, Christina neglected her routine check-ups despite being diligent about them in the past. However, when she experienced high blood sugar levels and didn't feel well, she decided to schedule a physical. During the appointment, her doctor discovered she hadn't had a mammogram in a long time, so Christina was sent for one.
After having routine mammograms in the past and testing negative for the BRCA genetic mutation, Christina believed she was not at risk of breast cancer, despite her mother having the disease in her late 70s. However, when Christina finally decided to have another mammogram, she was shocked to discover that she had breast cancer in three areas of one breast.
"I immediately started to freak out," she said. "Your mind starts to swirl, and the first six to eight weeks of testing is the worst because it's all unknowns. When the results came back, my primary called and told me, 'So you're going to need an oncologist and a surgeon,' I was initially overwhelmed, thinking it was probably a death sentence. But looking back, I realize she stated it matter-of-factly because it happens to many people who turn out to be fine. When it happens to you, you don't know about all those other people who have been treated for breast cancer and went on to live normal, long, healthy lives."
As Christina began her journey with breast cancer, she found comfort in connecting with other women who had gone through similar experiences. She kept her search for support within a small group of friends, seeking out those who had been through chemotherapy and radiation treatments. Christina interviewed 26 women before deciding on how to proceed and who her medical team would be. She knew how important it was to share her journey with others who may not know about the process and to support those who may be going through the same thing.
Feeling lost and overwhelmed, Christina sought the opinion of the first oncologist she was referred to. "She had no bedside manner, and it was the first time I really lost it," she said. Finally, her surgeon Dr. Fana asked Christina to consider seeing another oncologist— New York Cancer & Blood Specialists' Dr. Yelda Nouri. Dr. Nouri was exactly what Christina needed. "Dr. Nouri remembered everything and made me feel like I was part of something," she said. Christina learned that having a relationship with each of her doctors was so important.
Knowing the power of her own mindset, she decided to document her journey on video. "I found a sense of purpose in it," she said. "I wasn't just going through it for me; I was going to make something positive come out of this." Christina underwent a double mastectomy and a hysterectomy at the same time. She then had reconstruction surgery and experienced an infection about two weeks after the first reconstruction, so her next surgery date is in the summer of 2024. Christina kept video every step of the way, capturing both good and bad days.
"It was important for me to keep this video record of my journey with the intention of making a documentary in the end. I wanted other women to know that you can feel however you feel. You can do it in your own way. So the documentary is mostly positive but real and raw."
Her documentary is now complete, and she is preparing for a premiere at the Belmore Theatre in June. In addition to the documentary, Christina started a nonprofit organization encouraging women to share their stories and get tested regularly. She believes that taking some of the fear out of breast cancer will empower more women to take control of their health.
"We need to take the scary out of breast cancer, and have these mainstream conversations to give women hope, and let them know they're going to be okay." She also hopes to encourage women to get their breast screenings sooner.
Christina's positive mindset and determination played a significant role in her ability to cope with her cancer treatment. Despite initially fearing that her life would become miserable, Christina found purpose in her work and kept herself busy even when she didn't feel well. She was grateful to have a remote job that allowed her to work from home and take a break when needed. Although she experienced exhaustion and occasional dehydration during her chemo treatments, Christina never gave up and remained strong.
"I believe that in my lifetime, while I thought this could be the worst possible thing to ever happen to me, it has been such an amazing gift because I realized how strong and powerful I am," she said.
Six months and 16 rounds of treatment later, Christina learned that she was cancer-free after her surgery in September 2021. Her experience has empowered her, and now she encourages others to find a medical team they are comfortable with and to never settle for less. Cancer treatment is a lifelong journey, requiring proper support and care. So she advises other women to get screened and to find the right medical team. "Dr. Nouri was always so positive, and the staff was amazing," she said. Even when Christina felt tired during her treatments, she found comfort in her nurse's words to 'finish strong.'
Christina's experience with cancer taught her the importance of maintaining a positive mindset
Her positive outlook and determination were evident in how she coped with her treatment, and she was grateful for the support she received from the staff and doctor. Through her journey, Christina found strength in herself, and she hoped her story would inspire others going through a similar experience.
Her journey has been difficult, but she knows she is not alone. Through her documentary and nonprofit, she hopes to inspire other women to find the strength and power within themselves to overcome whatever obstacles they may face.