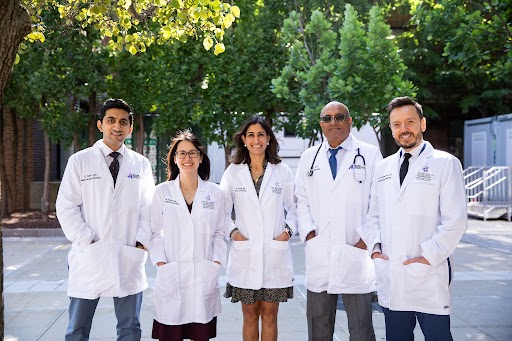 Expanding in Brooklyn
NYCBS has bridged the gap for patients to receive high-quality cancer treatment close to home. Through tertiary partnerships, NYCBS has expanded our footprint by opening four sites in Brooklyn, enabling us to bring the same level of expertise and high-quality care to more patients in areas previously underserved.
The expansion began in 2020 when NYCBS partnered with the Brooklyn Hospital and opened The Brooklyn Cancer Center (TBCC) at 121 Dekalb Avenue. TBCC is staffed by Chief of Hematology and Oncology, Dr. Maxim Shulimovich, Dr. Asmat Ullah, Dr. Shahzaib Nabi, Dr. Shreya Prasad Goyal, and radiation oncologist Dr. Minh-Phuong Huynh-Le. Since then, the center's productivity and efficiency have increased as we streamlined services to provide our patients with the care they deserve.
In August 2021, we continued our Brooklyn expansion by partnering with AdvantageCare Physicians (ACPNY), opening two new locations at 447 Atlantic Avenue and 101 Pennsylvania Avenue. These centers are staffed by Dr. Mark Grand and Dr. Goyal, well-established oncologists in the community.
All three sites offer patients various modalities to care for their mind, body, and spirit, including chemotherapy, radiation therapy, clinical trials, and wellness services, including social work, nutrition, and supportive and palliative care.
This year, we will be relocating our current TBCC facility to a new state-of-the-art treatment center at 86 Fleet Street and welcoming board-certified hematologist-oncologist Dr. Kalimullah Quadri. The new Fleet Street office will encompass numerous amenities. We will also be opening a separate radiology site down the road at 81 Fleet Place, so patients can have their scans read while avoiding unnecessary travel.
TBCC has seen a tremendous increase in new patient numbers. We have recruited and are continuing to recruit new physicians and other staff members, growing the service line. We have increased accessibility to clinical trials and continuing to enroll more patients. We are improving existing programs such as the Lung Cancer Screening Program and others of our TBH partners by bringing our expertise and philosophy to cancer care using the latest innovations and advancements.
The opening of the new TBCC opening will bring increased capacity, and an architectural atmosphere that aligns with the care we aim to provide.
Recently, NYCBS announced its partnership with Physicians of Memorial Sloan Kettering Cancer Center (MSKCC) and its plans to open a 39,000 sq ft facility in Brooklyn, New York, in early 2023.
The new facility will house two independent practices: Memorial Medical Care, PC, which is a new practice formed by a group of MSK physicians, and NYCBS. Through this collaboration, patients will have access to a wide range of services, including advanced imaging, state-of-the-art therapies, cutting-edge clinical trials, and a multidisciplinary team of specialists providing collaborative patient care and delivering the best possible outcomes. Patients requiring complex cancer care and surgery will have direct access to MSK's main hospital in Manhattan.
The partnership will open a great new avenue for accessibility to world-class cancer care and cutting-edge clinical trials. By placing MSK and NYCBS physicians in the heart of Brooklyn, residents of Brooklyn and Queens can access the cancer care they need closer to home.