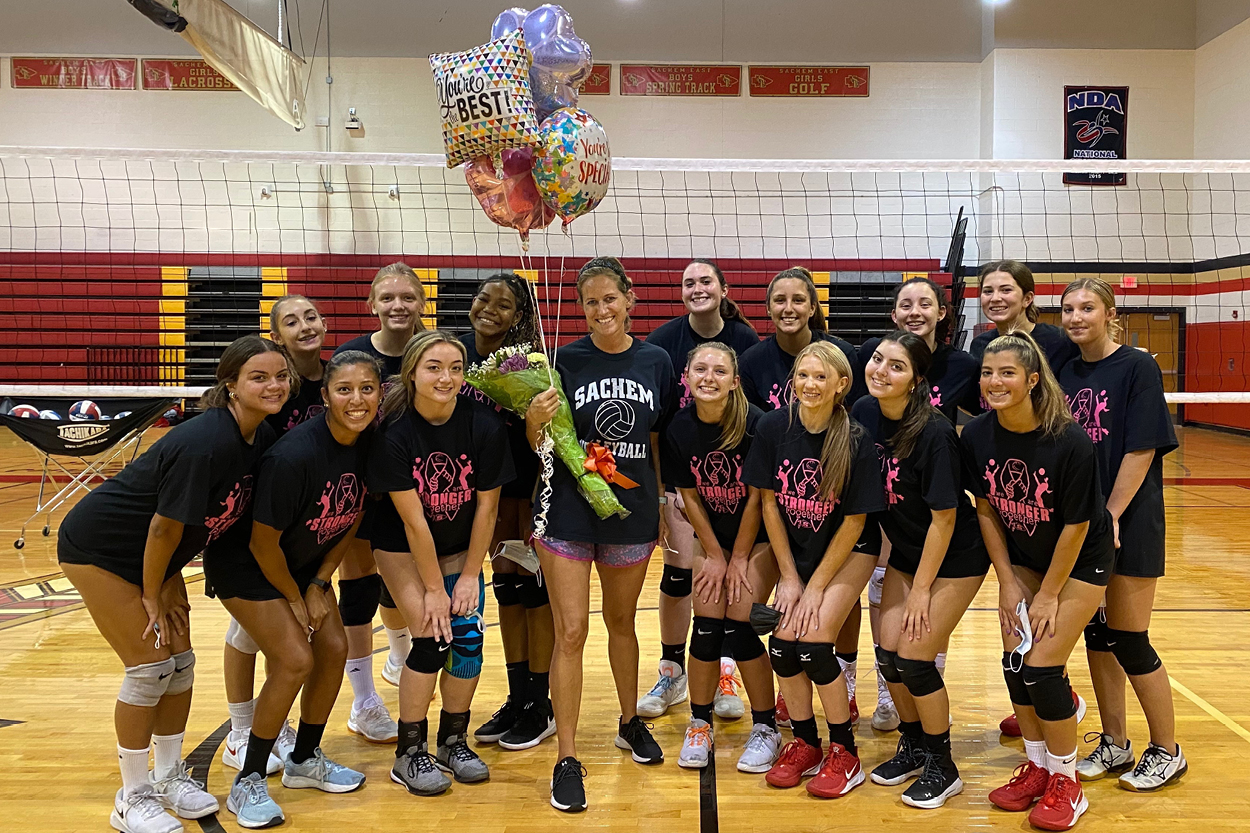 Bump, Set, Inspire: Amanda's Breast Cancer Story
While showering, Amanda, a high school English teacher, and passionate volleyball coach, stumbled upon a small abnormality in her left breast. Despite her usual tendency to dismiss health concerns, a strong gut feeling urged her to address it right away.
"My journey began with an appointment at my obstetrician's office, followed by a series of diagnostic tests like a mammogram, sonogram, and biopsy," Amanda recounted. The heart-wrenching confirmation of breast cancer soon followed, inundating her mind with images of celebrities, awareness campaigns, and the sobering realities of hair loss and mortality.
Unbeknownst to Amanda, her diagnosis coincided with the COVID-19 pandemic, an era filled with uncertainty and unique challenges within the healthcare system. Unaccompanied and with restrictions in place, attending appointments became an anxiety-inducing experience.
"The search for the right doctor was crucial, especially during those lonely appointments in the midst of the pandemic," she explained. Thankfully, a fellow patient at New York Cancer and Blood Specialists (NYCBS), a trusted friend, pointed her in the direction of Dr. Alfredo Torres. "When I met him, I instantly felt connected to the practice. It felt like home. Little did I know it would extend far beyond the treatment phase and become a lifelong relationship."
Amanda's treatment regimen encompassed a series of formidable procedures: a bilateral mastectomy, reconstruction surgery, hysterectomy, and multiple rounds of chemotherapy. Predictably, she encountered the anticipated side effects, including the loss of her hair. Yet, she discovered that the physical aspects of treatment were often overshadowed by the emotional and psychological toll they exacted. The real battle, she realized, commenced in the aftermath of cancer treatment as she grappled with adapting to a "new normal."
"Chemo, surgeries, and needles were tough, but strangely, they felt like the easier parts," Amanda expressed. "It's living life after cancer that's the toughest."
Despite the challenges, Amanda maintained an optimistic outlook, drawing strength from her outgoing personality and her role as a volleyball coach. Timing played a crucial role in her recovery, allowing her to focus on healing during a period when many activities were put on hold due to the pandemic. However, the transition back to work and coaching presented its own set of obstacles.
"My athlete mindset propelled me forward. I viewed myself as a survivor, not a victim," she asserted. "By constantly challenging myself and nurturing mental resilience, I discovered the power to overcome. It's how we respond to life's trials that ultimately define our outcome."
Throughout her arduous journey, Amanda's children, who were young at the time of her diagnosis, served as constant sources of motivation and strength. The unwavering support from her loved ones and the outpouring of support from former students and athletes played a pivotal role in her recovery.
"I was deeply humbled by the overwhelming support I received," she expressed. "Looking back, I am reminded of the numerous individuals who played a significant part in my journey. It truly astonished me to witness the support of such young individuals."
This experience also imparted valuable lessons about the importance of proactive healthcare, early intervention, and the significance of cultivating a strong support network.
"It reshaped my perspective. Family time became more precious," she said. "I learned the importance of not ignoring your body and seeking early intervention."
Amanda's bond with Dr. Torres deepened as she progressed through her treatment. She praised his exceptional bedside manner, calm demeanor, and unwavering confidence in his craft. The dedicated medical team, including nurses Amanda, Anna, and Megan, consistently provided attentive care, creating a safe and comforting environment during her visits.
"Dr. Torres has become an integral part of my life," Amanda said." I trust him and appreciate his calm and confident demeanor. The nurses in the infusion room understood my needs; they knew when I needed space or wanted to talk."
Motivated by her own experience, Amanda and her volleyball team fundraise for the Islip Breast Cancer Coalition, an organization that supported her during her illness. She now advocates for breast cancer awareness and encourages other women not to ignore their bodies and to stay current with screenings.
"I have learned so much throughout this process that the earlier you discover something, the easier it will become, and the easier the journey will be. So reach out to the people you trust, find solace in your faith, and do not be afraid."