TLC at NYCBS - Frank's Story
It's been 22 years since Francis (Frank) Martinis lost his wife to breast cancer. The high school sweethearts had a wonderful marriage, family, and everything they had ever hoped for until the dreaded disease took her life. For 25 years, prayers gave them the strength to get through the difficulties of her treatments at an academic medical center, often feeling lost in a big machine.
Naturally, those vulnerable times have been turning over in his head ever since. The repressed memories resurfaced when the 75-year-old retired police officer was diagnosed with non-small cell lung cancer.
Frank had a small lesion for about a year and a half that he noticed was itchy. He went to the dermatologist to get it checked out, and they performed a shave biopsy that came back consistent with cutaneous T-­cell lymphoma. His dermatologist referred him to New York Cancer & Blood Specialists (NYCBS) oncologist Dr. Alfredo Torres for evaluation. After thoroughly reviewing Frank's blood work, Dr. Torres sent him for a PET scan. The scan showed a lung lesion, and the fears from all those years cropped up again.
Dr. Torres referred Frank to a thoracic surgeon for a lobectomy. It was the best-case scenario; the textbook surgery went well, and the surgeon removed the lobe. The only concern was a cell that could turn cancerous in the future, so Dr. Torres recommended four chemotherapy sessions. Frank looked at Dr. Torres and said, "I thought you said there was no cancer." Dr. Torres reassured him that he would be fine; the treatments would be mild.
Frank, a nonsmoker, tried to find a reason for its happening. He thought back to all his years standing in the middle of a big intersection of the city directing traffic for four or five hours inhaling exhausts and, by the end of his tour, blowing his nose into a tissue, black from the soot. "We used to laugh about it like it was a joke," he remembered.
So, every three weeks, Frank would go to NYCBS for treatment. He felt as relaxed as he would at his own house. He explained, "It was very unusual because when I was with my wife, I could feel the hair on my neck. At NYCBS, I feel like I'm dealing with my family. They make you feel like you're the only patient they have."
He continued, "Dr. Torres was so kind. He spoke to me very calmly, listened to everything I was scared of and had a wonderful bedside manner. I felt safe with him. Everybody in the office cared, and I'll tell you, you can go to the best doctor in the world, but you might not survive it mentally if he's like a machine. You need 'TLC,' and that's what I found at NYCBS."
Now that Frank has finished treatments, he receives calls every month to see how he's doing. "I can't say enough about NYCBS, how grateful I am that my doctor sent me there, and how lucky I was to have Dr. Torres," he said. "I was so glad to be treated close to home in an environment where I felt relaxed. They made it doable. They made it survivable."
Though Frank still struggles with the fear of cancer, prayers give him the strength to power through his days. He doesn't need many bells and whistles to be happy. He finds joy running errands, doing stuff around his house, spending time with his children and girlfriend, and just enjoying the little things in life.
For more information about screening, schedule a time to talk with us- schedule now.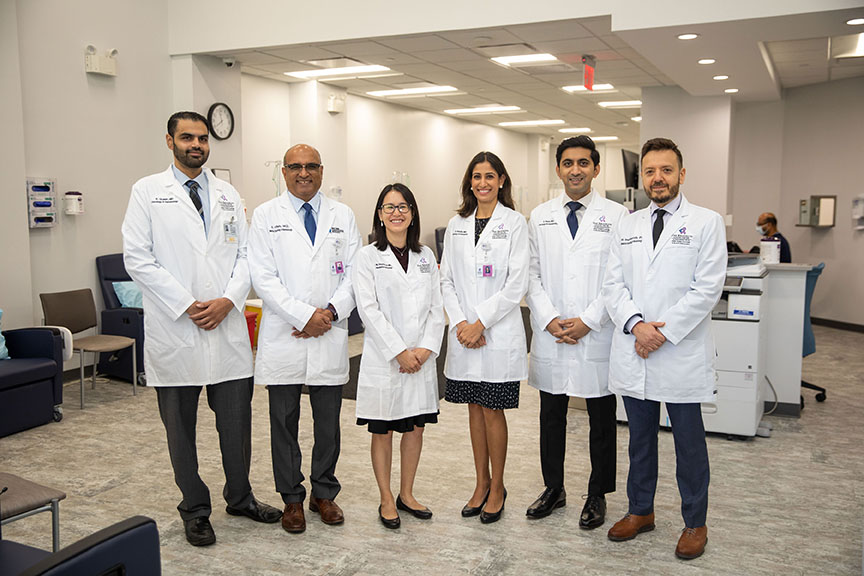 (631) 751-3000
Meet our Doctors
More Stories

TLC at NYCBS - Frank's Story
Colorectal Cancer: Ken's Story
Firefly Lane: Melissa's Story
It's About Time: Adina's Story