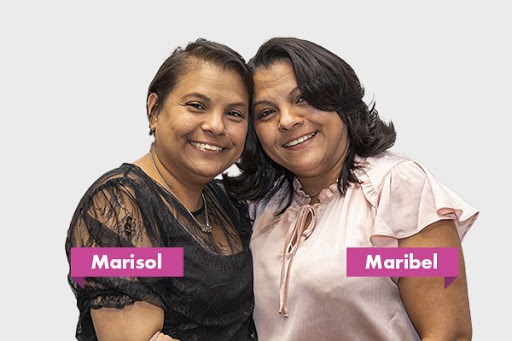 Maria and Maria
The twin bond is a unique and powerful relationship unlike any other.
Commonly, twins seem to share similar experiences throughout their lives and have an inherent understanding of their sibling's emotional state. For twin sisters Maribel and Marisol, a consecutive breast cancer diagnosis tested their faith and made their relationship stronger than ever.
Maribel, a Florida resident, was not one to go to the doctor often. So when she decided to have a mammogram for the first time at 42-years-old, she was shocked to learn the screening results, and later a biopsy came back positive for breast cancer.
Her physician referred her to an oncologist in Florida who suggested she have a mastectomy immediately. Unwilling to undergo a mastectomy, Maribel was ready to let life run its course until her twin sister stepped in. Marisol encouraged Maribel to come to New York for treatment. They had a family friend undergoing cancer treatment at New York Cancer & Blood Specialists with Dr. Zuniga as their oncologist. They recommended him, and in less than a month, Maribel had an individualized care plan with a healthcare team she trusted.
Maribel learned of her diagnosis in 2018. By July 2019, she had surgery to remove the cancerous cells and began two months of radiation treatment. Maribel did not need to have a mastectomy after all. She did, however, have a hysterectomy since genetic testing identified her as a carrier of the BRCA genetic mutation, which increases the risk of developing ovarian cancer. A week after the hysterectomy, Maribel received the miraculous news; she was cancer-free.
Three months later, their faith tested them a second time. Marisol had noticed her breasts felt inflamed, and a lump would come and go with her period. So she made an appointment with her gynecologist, who ordered her to go for a mammogram. She also had a sonogram on her breasts which showed a tumor, forcing her to have multiple biopsies.
Marisol's treatment began at another institution, but it wasn't right; she felt sick. So one day, while Maribel was in the office with Dr. Zuniga for her appointment, she Facetimed Marisol.
Dr. Zuniga visited Marisol at the place she was going for treatment, and that day, Marisol decided to start her treatment plan over at NYCBS.
When the COVID-19 pandemic hit, it caused an upheaval in their world, causing them to be distant from one another. Maribel would visit Marisol at her house and wave to her through the window outside. Naturally, they were determined to conquer the disease together, even if it meant being apart.
Marisol's cancer treatment consisted of 12 rounds of chemotherapy and six rounds of radiation. In May 2020, she underwent a double mastectomy. One year later, Marisol finished her last chemotherapy surrounded by flowers and balloons gifted by the wonderful nurses at NYCBS.
Reflecting on the year, Marisol is proud to say she learned quite a few new things about herself, including her talent for baking. Marisol helped pass the dreary days by learning how to make specialty cakes- the kind you see at fancy parties. Because the pandemic disrupted birthday plans for her daughter, she made a promise that the year ahead would be better. This year, Marisol threw her daughter a birthday party complete with a unicorn birthday cake crafted with her skills.
"I am eternally grateful for the care at NYCBS and Dr. Zuniga's helping hand," she says. "They treat you like family, and that is beyond care."
Maribel would undoubtedly agree. Her perspective has changed since that very first day at the doctor. She said, "I am very happy and blessed to have my family and NYCBS' support and care. I want to live a long life and see my daughters successful."
It was tough for Maribel to go through breast cancer simultaneously as her sister, but what united them was faith.
"She always took care of me; it was my turn to take care of her," she said.
Maribel and her niece (Marisol's daughter) chopped off their hair and donated it to St. Jude Children's Research Hospital.
Courage is one of the greatest manifestations of faith. Maribel and Marisol believe, "God gives His hardest battles to his strongest soldiers, but He also gives them an angel, and for us, that was Dr. Zuniga and NYCBS."