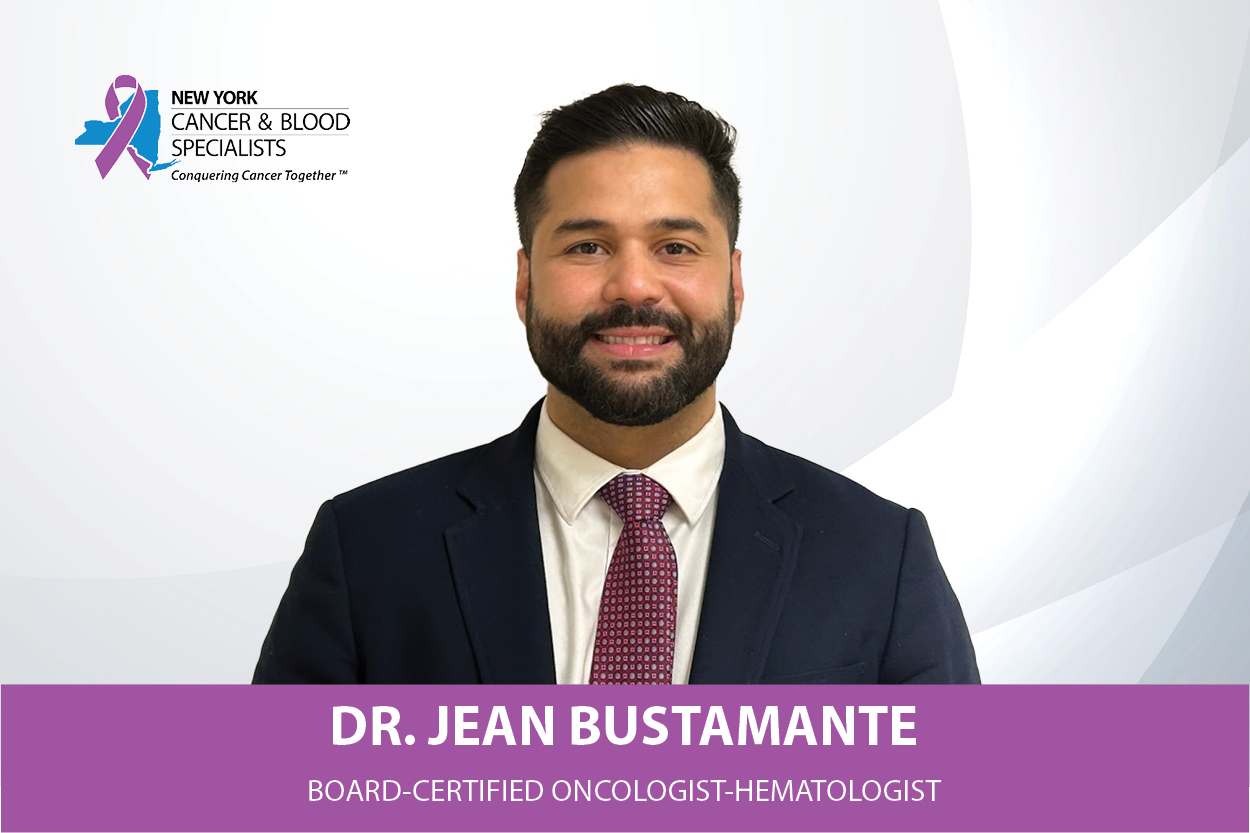 Jean Bustamante, MD, MS Joins NYCBS
New York Cancer & Blood Specialists (NYCBS), one of the nation's leading oncology practices, is proud to announce the addition of oncologist-hematologist Jean Bustamante, MD, MS. Dr. Bustamante will be joining the team in the Upper East Side at 215 E 95th St. New York, NY 10128.
"We are proud to welcome Dr. Bustamante to the NYCBS family," said Jeff Vacirca, MD, CEO of NYCBS. "His expertise in molecular oncology will greatly benefit our patients and will play a pivotal role in advancing precision medicine at NYCBS."
Dr. Bustamante has extensive expertise in molecular oncology and the treatment of various malignancies, specializing in thoracic oncology, including small-cell lung cancer, non-small cell lung cancer, mesothelioma, and thymic malignancies, he employs a comprehensive approach that integrates immunotherapy, targeted therapies, and diverse chemotherapy regimens to achieve optimal treatment outcomes. Additionally, Dr. Bustamante has a particular focus on managing benign and malignant blood disorders, with expertise in thrombosis, myeloproliferative neoplasms, and autoimmune cytopenias.
Beyond his clinical practice, Dr. Bustamante is actively engaged in groundbreaking research, primarily in the field of genomics and circulating tumor DNA. His work has been published in esteemed journals, encompassing review articles and original research on cell-free DNA in thoracic oncology. As a principal investigator and co-investigator, he leads and collaborates on several interventional clinical trials, specifically focusing on small, non-small-cell, and mesothelioma. Furthermore, Dr. Bustamante contributes to research endeavors centered around biomarkers and their potential impact on improving patient outcomes.
"I aim to meet my patients where they are in their journey and guide them through the complexities of this disease," Dr. Bustamante said. It's essential to me that my patients understand their treatment plan and the options available to them. I place great emphasis on providing support to navigate both the logistical and emotional challenges that come with a cancer diagnosis."
Dr. Bustamante earned his Doctor of Medicine degree from the Central University of Venezuela and a Molecular Oncology Master's from the Bioscience Studies Center and CNIO at the National Cancer Research Center in Madrid, Spain. He completed his Internal Medicine Residency Program at Albert Einstein Medical Center, serving as Chief Resident. Subsequently, he pursued a Hematology and Oncology Fellowship at The Ohio State University Wexner Medical Center and James Cancer Center, where he also held the position of Chief Fellow. Dr. Bustamante speaks fluent English and Spanish.
To make an appointment with Dr. Bustamante, please call (718) 732-4049.