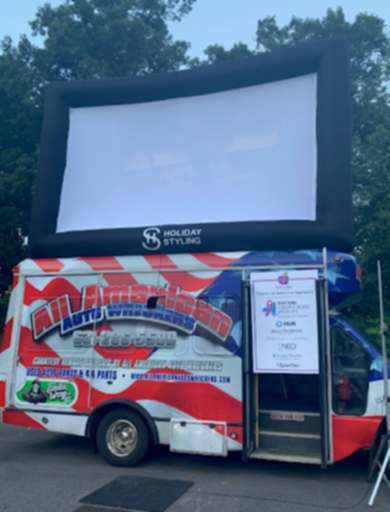 New York Cancer Foundation Drive-In Movie Night
While indoor movie theaters remain closed, drive-in movie theaters have made a comeback amidst the coronavirus pandemic. A popular form of entertainment in the 1950s re-emerged into pop-up events as social distancing mandates have made family-friendly activity no simple task.
Ever since the movie, "Grease", a dinner-date at the drive-in has always seemed appealing. On Friday, July 17, The New York Cancer Foundation hosted a pop-up drive-in showing of "Grease" at Long Island Community Hospital Amphitheater. It was a perfect Friday night; a great way to end the week and begin the weekend.
The $50 admission benefited the foundation with all of the proceeds helping cancer patients in need. Prior to showtime, cars settled in their parking spots and tuned into the designated FM radio station. While awaiting dusk, Wizard of Oz played on the screen; two classic movies for the price of one.
Many NYCBS patients, families, staff, and fur friends joined the fun. The Felico's food truck offered drinks and food but it seemed as if every car had brought their own movie night dinner: pizza. The NY Cancer Foundation gave each car a huge bag of popcorn guaranteed to last you the whole movie and then some.
Viewing a movie from the comfort of your own car was nostalgic for some and for others it was an experience like no other. You can tilt your seat back, relax, and have plenty of room for snacks. Some movie-goers parked their cars backward, popped the trunk, and spread out to watch the movie under the stars. The sense of community feeling was undeniable. The drive-in offered a perfect way to get out and enjoy a warm summer evening.
Thank you to the sponsors!
New York Cancer and Blood Specialists, HUB International Retirement & Private Wealth, Janus Henderson Investments, J.P. Morgan Investments, NeoGenomics Laboratories, Sentinel Benefits and Financial Group, and T. Rowe Price Investments.